Potatoes – Agria – unwashed
Kumara – Red
Mushrooms – White Button
Lettuce Cos
Broccoli
Beans – Green Round
Cabbage – Green
Carrots Juice Grade
Carrots Table Grade
Cucumber lebanese
Parsnip –
Apples – Coxes Orange
Apples – Royal Gala
Pears – Bosc
Beetroot – New-Season
Capsicums – Red
Ginger – SF Fiji
Source: https://www.organicfacts.net/
The most important health benefits of parsnips include their ability to improve heart health, enhance digestion, reduce birth defects, aid in weight loss, and boost the immune system. Parsnips also enhance vision, promote growth, boost oral and skin health, as well as improve brain health.
What are Parsnips?
Parsnip (Pastinaca sativa) is a root vegetable native to Eurasia and has been used extensively in that region since ancient times. This taproot is closely related to carrots and parsley, and for that reason, it is often mistaken for carrots in historical records. Parsnip is a hardy annual or biennial plant with a number of culinary applications. In the past, these vegetables were even used in herbal medicine and as an aphrodisiac.
Note: There is another variety of parsnip called wild parsnip, which is a Eurasian weed with edible roots.
Parsnips Nutrition
Serving Size : 100 g1 cup slices (133 g)
Nutrient
Value
Water [g]
79.53
Energy
75
Energy [kJ]
314
Protein [g]
1.2
Total lipid (fat) [g]
0.3
Ash [g]
0.98
Carbohydrate, by difference [g]
17.99
Fiber, total dietary [g]
4.9
Sugars, total including NLEA [g]
4.8
Calcium, Ca [mg]
36
Iron, Fe [mg]
0.59
Magnesium, Mg [mg]
29
Phosphorus, P [mg]
71
Potassium, K [mg]
375
Sodium, Na [mg]
10
Zinc, Zn [mg]
0.59
Copper, Cu [mg]
0.12
Manganese, Mn [mg]
0.56
Selenium, Se [µg]
1.8
Vitamin C, total ascorbic acid [mg]
17
Thiamin [mg]
0.09
Riboflavin [mg]
0.05
Niacin [mg]
0.7
Pantothenic acid [mg]
0.6
Vitamin B-6 [mg]
0.09
Folate, total [µg]
67
Folate, food [µg]
67
Folate, DFE [µg]
67
Vitamin E (alpha-tocopherol) [mg]
1.49
Vitamin K (phylloquinone) [µg]
22.5
Fatty acids, total saturated [g]
0.05
14:0 [g]
0
16:0 [g]
0.03
18:0 [g]
0.01
Fatty acids, total monounsaturated [g]
0.11
16:1 [g]
0
18:1 [g]
0.1
Fatty acids, total polyunsaturated [g]
0.05
18:2 [g]
0.04
18:3 [g]
0
Sources include : USDA [1]
According to USDA, parsnips contain high levels of minerals such as calcium, potassium, manganese, magnesium, phosphorus, zinc, and iron. They have an impressive range of vitamins, including folate, thiamin, pantothenic acid, vitamin B6, C, E, and K. Additionally, they also have high levels of fiber, water, and protein. They are low in carbohydrates, sodium, and calories. They also contain poly-acetylene antioxidants such as falcarinol, falcarindiol, panaxadiol, and methyl-falcarindiol. [2]
Health Benefits of Parsnips
Let us discuss the important health benefits of parsnips in detail.
Improve Heart Health
Parsnips contain a high level of potassium, which acts as a vasodilator as well as reduces blood pressure and stress on the heart. The high levels of folate in this root vegetable reduce homocysteine levels in the blood, which are generally associated with a higher risk of heart diseases. The fiber found in this root helps reduce cholesterol levels. Thus, these root vegetables help in preventing stroke, atherosclerosis and other coronary issues.
Rich in Dietary Fiber
Connie Weaver, the nutrition scientist in a research paper titled, "White Vegetables: A Forgotten Source of Nutrients" suggests that white or near white vegetables like parsnips have been praised for their high fiber content, particularly, because they are composed of soluble fiber. This variety is closely associated with reducing cholesterol levels, lowering blood glucose levels, preventing diverticulitis, reducing obesity, enhancing digestion, and more. [3]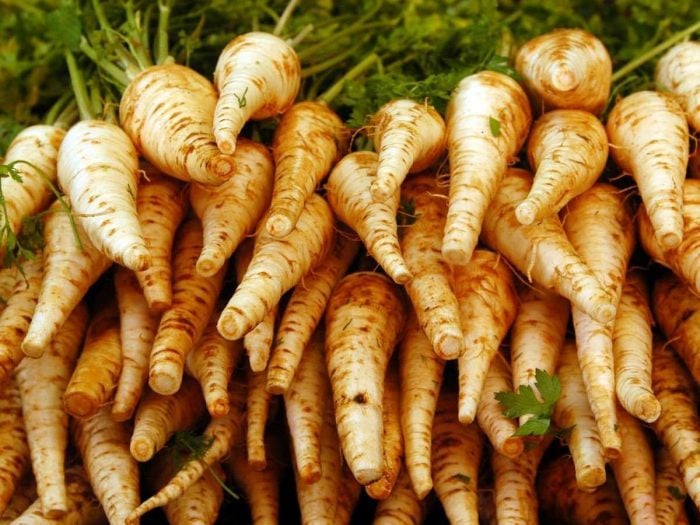 Reduce Birth Defects
Parsnips are rich in folate (vitamin B9 or folic acid), which is also connected with reducing neural tube birth defects including cleft palate, spina bifida, and brain damage in infants. They also help in optimizing metabolic processes related to energy production and the nervous system. Additionally, these vegetables help new mothers to cope with postpartum depression.
Weight Loss
As a low-calorie option with high levels of soluble fiber, parsnips fill you up and prevent the release of ghrelin, which is a "hunger" hormone. This can significantly reduce your likelihood of snacking between meals, thus, aid in weight loss. Also, the optimized digestive processes help you eliminate waste and get the healthiest nutrients from your food.
Boost Immune System
Parsnips packed with antioxidants, vitamins, and organic compounds improve immunity by protecting the body from foreign invaders as well as toxic by-products from our own cellular metabolism. Vitamin C and E act as antioxidants in the body and eliminate or neutralize the harmful free radicals, providing relief from oxidative stress.
Promote Growth
The full range of minerals and vitamins in parsnips makes them an ideal snack or dietary addition. They form a vital part of a balanced diet.
Oral Health
Vitamin C and folate in parsnips boost overall oral health by preventing gingivitis, tongue inflammation, toothache, and bad breath. It maintains healthy connective tissue and gums as well as builds strong teeth.
Enzyme Production
Parsnips provide manganese, which is an essential component of many enzymes in the body. Thus, they help produce enzymes that aid in managing digestive health, antioxidant function, wound healing, and more.
Aid Digestion
The soluble dietary fiber in parsnips is a key component of our digestive process, facilitating the healthy movement of food through the digestive tract. It aids in reducing constipation and preventing other gastrointestinal disorders.
Enhance Vision
The research journal Scientific Reports suggests that ascorbic acid, which is also found in parsnip, prevents various eye issues including age-related macular degeneration, which causes blurred vision in older people. The antioxidants in the vegetable also protect the eyes against damage caused by the sun. Overall it helps boost eye health and vision. [4]
Other Benefits
Other benefits of parsnips include:
Strengthen Bones
Parsnips being rich in manganese, calcium, and zinc help improve bone health. Manganese is a co-factor of glycosyltransferases, which helps in producing cartilage and strengthening bone as well as resolves skeletal issues like osteoporosis. Furthermore, the anti-inflammatory properties of the root vegetables reduce the symptoms of arthritis.
Anticancer Potential
Falcarindiol, an antioxidant present in parsnips, may have anti-cancer properties which look for and destroy tumorigenic cells. [5]
High in Folate and Potassium
The excess potassium present in parsnips helps in controlling heart rate and blood pressure by countering effects of sodium. While the high amount of folate in this vegetable promotes the growth of red blood cells as well as prevents neurodegenerative diseases.
Boost Brain Health
Potassium and folate in parsnips fight depression, anxiety, and other mental issues. They also help you become more focused and alert, thus, making a positive impact on overall neurological health.
Prevent Respiratory Illnesses
The anti-inflammatory properties of parsnip and carotenoids in it help treat many respiratory problem and infections. These include sinusitis, asthma, wheezing, emphysema (damaged air sacs in the lungs), bronchitis, dyspnea (shortness of breath), and other respiratory illnesses.
Rich Source of Vitamin C
Vitamin C in parsnips stimulates the production of white blood cells to attack foreign microbes in the body, in addition to functioning as a key element in the production of collagen, which is a fundamental building block of our body.
Prevent Anemia
Vitamin C, vitamin B9, and iron present in parsnips are crucial for increasing blood flow and preventing anemia, especially in women. Additionally, vitamin E helps in building red blood cells, thereby, boosting oxygen transport in the body.
Skin Care
Parsnips, rich in vitamin C, have antioxidant and anti-aging properties. These properties help to prevent wrinkles, enhance skin elasticity, and repair damaged skin cells.
Other Benefits
Parsnips aid in producing sex hormones and aid in blood clotting. This is because of the presence of vitamin K and manganese in them.
---
Pumpkin & parsnip cassoulet
Ingredients
2 tbsp olive oil
2 large onions , chopped
500g pumpkin , deseeded, peeled and diced
500g parsnip , diced
3 garlic cloves , crushed
2 x 425g cans mixed beans , drained
780g can tomatoes
225ml red wine
300ml vegetable stock
2 large sprigs fresh thyme
1 tbsp sugar
75g fresh breadcrumb
25g vegetarian parmesan -style cheese, grated
Method
Step 1 Heat oven to 180C/fan 160C/gas 4.
Heat the oil in a large pan or wok, add onions,
then fry for 5 mins until golden. Add pumpkin,
parsnips and garlic and cook for a further 3 mins.
Stir in beans, tomatoes, wine, stock, thyme, sugar
and plenty of seasoning.
Bring to the boil, then transfer to a large casserole
dish, pressing the beans and vegetables beneath
the liquid.
Step 2 Sprinkle the top with breadcrumbs and
grated cheese. Cover, then cook for 40 mins.
Uncover, stir well and cook for a further 40 mins.
Serve with garlic bread and stir-fried cabbage.
Carrot & parsnip soup
Ingredients
½ tbsp olive oil
2 onions, finely chopped
2 celery sticks, finely chopped
2 garlic cloves, crushed
½ small bunch thyme, leaves picked
3 large carrots, peeled and roughly chopped
2 large parsnips, peeled and roughly chopped
1 litre vegetable stock
100ml double cream
¼ bunch parsley, finely chopped (optional)
Method
STEP 1
Heat the oil in a large saucepan and fry
the onion and celery for 10 mins, stirring
occasionally until softened. If they start to catch, add a small splash
of water. Add the garlic, thyme and ½ tsp black
pepper and cook for 2 mins. Add the carrots,
parsnips and stock and bring to the boil.
Reduce to a simmer and cook for 20 mins until
the vegetables are soft, stirring occasionally.
STEP 2
Blend using a stick blender until smooth.
Add the cream and blitz again until combined, then
taste for seasoning. To serve, ladle into bowls and
scatter over a little chopped parsley, if you like.


---
Events ahead:
Saturday Market – The Old Packhouse Market Kerikeri (Every Saturday) from 8am ~ fresh orange juice, fresh vege juice blends, smoothies, smoothie ice blocks

Sunday Market – The Old Packhouse Market Kerikeri (Every Sunday) from 8am ~ fresh orange juice, fresh vege juice blends, smoothies, smoothie ice block